Master Arthur Du started his Martial Arts career since he was a child with his family. Later on, he followed with many famous martial arts grandmasters in China such as Gongwei Xu, Yuanze Qian, Maosong He, Xiaoxing Chen and Xiaowang Chen.
Grandmaster Gongwei Xu (1916-2003)
Grandmaster Xu was a master of many arts, including internal martial arts such as different styles of Tai Chi, Xing Yi, Ba Gua and external martial arts such as Hua quan, Pao quan, Hong quan, Shaolin and Chaquan. During the Republic of China (after Qing dynasty), master Xu was considered as the No.1 in Chaquan)
Also, he studied and practiced traditional Chinese medicine. Grandmaster Xu was officially designated by the Chinese government as a cultural heritage because of his wealth of knowledge in the martial arts.
What is more, grandmaster Xu was the consultant for the Jiangsu Provincial Martial Arts Academy (China); the consultant for the Canada Chinese Martial Arts Academy; the director for the Canada Qigong Research Society
Grandmaster Xu Learned internal martial arts from Yifan Zhao who was the nominated doctor and bodyguard of the emperor(Cixi) in Qing Dynasty and he had the chance to meet the emperor quite often.
Grandmaster Xu learned external martial arts from Zhensheng Yu who was the head martial arts coach at the Huang-pu Military College (the top military academy in China after the end of the Qing dynasty).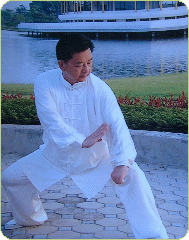 Grandmaster Yuanze Qian (1944-)
Mr. Qian Yuan Ze is one of China's contemporary Top Ten martial arts instructors, with a martial arts level 9 achievement (highest level), and the first martial arts instructor sent overseas by New China.
Mr. Qian Yuan Ze started martial arts since childhood and had studied under a number of teachers, professing in Shaolin, Tai Chi, Xingyi, Bagua, Baji, etc. He is the Yang style Tai Chi Chuan and Bagua fifth-generation descendant, one of the three disciples of Legendary Xingyi quan grandmaster Guo Yun Sheng, as well as Qing Dynasty "Southern heroes" Grandmaster Gan Feng Chi's sixth generation descendant, and the descendent of Jing Wu Men.
He emerged as a top winner with his amazing performance at his first martial arts competition in Nanjing at 13 years of age. Subsequently, achieving many trophies at the provincial, city, and national competitions. He won silver at China's first National Wushu Games competition in 1959 and later won gold in 1964.
Since 1970 he has served as Jiangsu Wushu Team coach, manager, coach, and served part time from 1982 as Deputy Director of Jiangsu Province, martial arts, deputy curator. He was involved in training of a number of national and world martial arts championin the 1970s and 80s.
The famed "Three Zhang and One Wang" – Zhang Yue Ning, Zhang An Xu, Zhang Cheng Zhong, Wang Zhen Tian, as well as other famous martial arts masters such as Dong Ming Biao, Zhong Qiao Zhen, Bai Li Juan are his disciples; Li Hui who is a well known master in Hong Kong's martial arts scene, is also under his tutelage.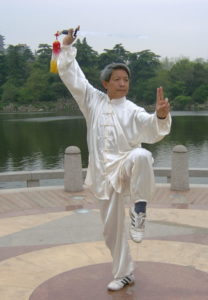 Grandmaster Maosong He (1948-)
Grandmaster Maosong He was born in April 1948. Grandmaster He is the director of the Jiangsu Provincial Anti-aging Association Martial Arts Committee, deputy director of Jiangsu Provincial Tai Chi Association, and Consultant of Nanjing Martial Arts Association
Grandmaster He followed Shijing Fang who was Shaohou Yang's descendant and studied Tai Chi, Xing Yi, Ba Gua and weapons.
Since the end of last century, Grandmaster He took many students attending national and international highest level Tai Chi competition and the students all won ideal prizes. He has also been training more than 100 Chinese national athletes of highest level 1 and level 2. Also, he organized the first and second Jiangsu Provincial Tai Chi tournaments and other national and international martial arts competitions. At the same time, he has been training more than 500 Tai Chi instructors nationally and internationally.
Grandmaster Maosong He has been doing research and developing the way to do Tai Chi to improve people's health and let people enjoy the effect of anti-aging based on Buddhism, Daoism, Confucianism and Chinese medicine. In his whole life, he has been spreading Tai Chi culture and the anti-aging way to exercise nationally and internationally.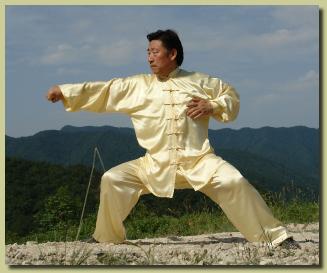 Grandmaster Xiaowang Chen (1945-)
Grandmaster Chen Xiaowang was born in 1945 in Chenjiagou (Chen Village), Henan Province, China. He is a senior national martial artist and professor in the Chinese Martial Arts International Promotions Centre. Upon a solid foundation of experience of his ancestors, Chen has not only been successful in Taijiquan himself, but has tirelessly promoted his "family martial art" throughout the world. He is direct descendent of the creator of Taijiquan, Chen Wangting and the grandson of Chen Fa'ke, renowned as the greatest Taijiquan master at the beginning of the 20th Century.
At a very young age, Chen received rigorous training in Chen family Taijiquan theory, forms, weapons, push hands, and free sparring from his father, Chen Zhaoxu, and his uncles, Chen Zhaopi and Chen Zhaokui. In 1980, he became a board member of the Henan Institute of Sport and began teaching Taijiquan professionally. He entered the National Taijiquan Competition winning gold medals for three consecutive years (1980, 1981, and 1982). In 1985, he represented China in the First International Martial Arts Invitational Competition in Xi'an receiving the world champion title for Taijiquan. Chen continued to compete in sizable competitions and was awarded the title of champion in Taijiquan more than twenty times. He has represented China sharing martial arts knowledge with people in more than 30 countries, including Japan, America, and Singapore. His deep Taijiquan skill has allowed him defeat all martial artists who have challenged him. Over many years, Chen has taught tens of thousands of outstanding Taijiquan students both in and outside of China. In 1988, Chen was awarded the Contribution to Martial Arts prize by the National Institute of Martial Arts.
Chen Xiaowang has held many positions of leadership in areas of martial arts, calligraphy, culture, and Chinese medicine and currently holds various positions in many international and Chinese Taijiquan institutions. He was the principal in the films on Chen family Taijiquan produced by Chinese Central Television (CCTV) and has choreographed and directed martial arts films. Additionally, he authored a number of renowned books and essays on Taijiquan. His books and videos have been translated into many languages and have been published worldwide.
Chen has contributed significantly to the international promotion of Taijiquan. In 1990, he left China on a mission to promote Taijiquan to the world. He established the World Chen Xiaowang Taijiquan Association and has since been touring Europe, North America, South America, and Asia promoting and teaching Taijiquan. The distance he travels each year is equivalent to twice the circumference of the earth. In February 2003, he accepted an invitation to return to his hometown, Jiao Zuo, to author a Taijiquan book for elementary and high school students. Both the people and government of Jiao Zuo warmly welcomed him.
Chen's big heartedness, his outstanding Taijiquan skills, and his personal characteristics make him highly respected around the world. He is truly the most outstanding Chen family Taijiquan master of his generation and a world-renowned martial artist.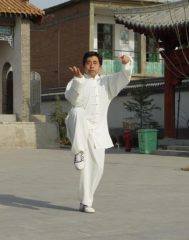 Grandmaster Xiaoxing Chen (1952-)
Chen Xiaoxing, born in 1952, is a grandson of 17th generation lineage holder Chen Fake, youngest son of Chen Zhaoxu and brother of the current lineage holder, Chen Xiaowang. Chen Xiaoxing is the principal of the Chenjiagou Taijiquan School in Henan province. He is the living embodiment of the Chen Village Taiji tradition and the leading representative of the Chen family in China. Chen Xiaoxing is known as Taiji Miao Shou ("highly skilled person") of the Chen family 19th generation. From 1979-1985 he won seven first-prize titles in national and provincial martial arts tournaments in Taiji push hands and weapons. Although highly skilled and recognized as a great master, he is very modest and approachable, even choosing to live in the school amongst the students.
Chen Xiaoxing began his training at an early age under his uncles Chen Zhaopei and Chen Zhaokui. Like his brother, he defeated many high level martial arts experts with taiji gongfu. He later continued his training under the guidance of his older brother, Chen Xiaowang. He upholds the tradition of direct transmission and is responsible for training the current generation of masters from Chenjiagou.
Chen Xiaoxing is known to be generous in sharing his knowledge as he directly oversees the training of local and foreign students. Since 1983 he has been teaching students at the Chen Jia Gou Taiji school as well as students in Shan Dong, Hu Bei, Zhe Jiang, Guang Dong and Liao Ning. From 1985 to date, he has been invited to teach traditional Chen family Taiji in Russia, Japan, South Korea, USA, Europe and South America as well as teaching students from all over the world who have come to China seeking his expert instruction. He has received groups of students wanting to learn martial arts as well as many tourists. In 1996 he was presented with a special award by the Henan Martial Arts Association for his contribution to the success of students in the provincial and international teams.
Chen Xiaoxing was awarded the title of 'Star of Taiji' by Wen Xian county in 1994 and the title of International Taiji Master in 1998. additionally, in 2001 he was employed as Chief Instructor by the Wen Xian Educational Authority. In April, 2004 he was employed by the China International Martial Arts Promotion Center as a Chinese and International Martial Arts Professor. He has been regularly featured in articles published by popular martial arts magazines and continues to be sought out in literary circles as an expert in his field.